Why is it worth to work at our company?
For 30 years, we have endeavoured to ensure that our latest employees feel comfortable in their new workplace from day one onwards - and have the opportunities to convert their ambitions into reality.
Owing to the individually adjusted onboarding process, our new recruits easily get to know the company and its structure under stress-free circumstances.
The people of our enterprise and the friendly atmosphere they create together are for us the greatest assets of the company, but work at Urtica also means challenges that give one the sense of professional and personal satisfaction.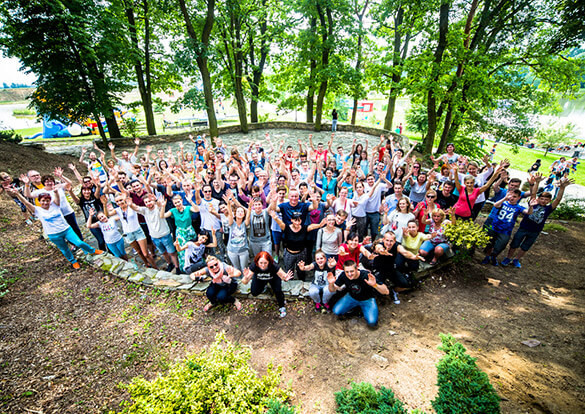 Whom do we hire?
We build our competitive advantage based on knowledge about the market and by focussing on key business processes. Our team is composed of the best experts, the knowledge and experience of whom allows us to constantly improve the quality of our services.
If you are a person, who:
wants to enhance your competencies under the supervision of experts,
is not afraid of challenges,
has high interpersonal skills, is reliable and focused on reaching goals,
has a professional and responsible approach to your duties.
You can keep track of our recruitment processes at Pracuj.pl
Benefits
The benefits we offer include both development and healthcare tools.
Out of concern for the development of hard and soft skills, we offer our employees a number of training solutions, for example:
internal and external training adjusted individually to development path,
participation in congresses and conferences,
co-financing of post-graduate studies related to the job.
What do we offer?
We guarantee work within a dynamic team and the opportunity to gain experience side by side with true experts. After hours – we offer the integration in the spirit of corporate social responsibility.
Find out more on facebook
Examples of offered health and wellness benefits:

1 Sending application
Our HR Department employee will review the application in terms of its compliance with the listed requirements (professional experience, education, qualifications). We will contact those candidates who meet our expectations to the highest degree, to schedule an interview - this being the next step of the recruitment process for a particular vacancy.

2 Interview
During the interview, candidates have the possibility to present themselves in their best light, but may also to learn more about our expectations and to ask questions regarding the nature of the work within a particular position.

3 Further steps
In some cases, the process is extended to include additional steps. At this point, candidates may be asked to fill in some tests which verify their potential/hard skills or personality traits. Additionally, we use Assessment Centre tools, namely a set of group and individual tasks testing selected competencies.

4 Job offer
After successful completion of the entire recruitment process, our HR Department will contact selected candidates to present employment conditions and to discuss details. Regardless of the recruitment process results, each candidate will receive feedback within 2 weeks after the interview or Assessment Centre activity.
We support young persons in the job market by enabling their participation in a Career Program - during the summer holidays, we offer several internship vacancies at different departments. During the two-month internship, students learn what tasks are performed by particular departments and also carry out projects on their own.
After the successful completion of their internship, interns get a chance to continue the cooperation and be included among the company's permanent employees.
www.programkariera.pl
Apart from holiday programs, we also offer students cooperation opportunities throughout the entire year. Herein, interns support the work of particular departments and perform various tasks, both those that develop cooperation skills and those that are independently-oriented. Tasks are performed under the supervision of an internship supervisor/coordinator, however, interns quickly become integrated team members. Owing to this, the adaptation process is more efficient. Indeed, the intern database is often the first candidate database we use when recruiting new employees. This solution has become a fixed component of our employment strategy.